CONGRATULATIONS


You've taken the first step towards an easier and more enjoyable life with your dog!

Dog training isn't all about the dogs, it's about you. Dogs are meant to add joy to our lives, but so often, they add stress instead. Like most relationship issues, this is usually due to communication issues and misunderstanding between us and our canine best friends.

Our dogs live with us for a long time. When we first bring them home. we want to provide the best possible care for them and this means investing in health care, bedding, safe toys and a quality diet.

Just like we invest in preventative health care, investing in training can prevent a lifetime of unnecessary issues, yet this important part of a dog's life is often overlooked.

By starting training early - whether you have adopted an older dog or a young puppy, many serious behavior issues can be avoided, and you can develop an understanding of how your dog learns so that you can confidently teach them through any stumbles that you may come across throughout the rest of their lives.

A well mannered dog not only saves you money on vet bills and further behavioral training, but they are a much happier dog and are a lot more fun to live with.

Having a closer bond and strong relationship can be achieved through training With Belynda Moore and any trainers at Emerald Meadows Canine.

Come visit us for a 50% discount on an INTRO LESSON to understand how the training program works!
Our Classes
Enjoy personalized training tailored specifically for you and your dog!
Training Classes & Dog Psychology
*The Aggressive Dog Specialists!* Helping dogs and owners with:
Food Aggression
Dog/ Human Aggression
Destructive Behavior
Separation Anxiety
Timid or Fearful
Fear Biters/ Aggression
Territorial
Obsessive Behavior
You Name it!
Real Life Dog Training
Set up a 50% discounted INTRO LESSON today!! Only $75!!!
Experience Counts
Our Dog Trainer has over 30 years experience training dogs and owners how to communicate effectively. That is a total of over 55,000 hours! This experience is vital to understanding how dogs think and learn! Educating owners and giving them the vital foundation skills needed to become a more effective pack leader and communicator is the key to creating the best possible outcome for you and your family!

Learn the importance of proper puppy rearing and what becoming the pack leader truly means. Having trouble walking or controlling your dog? Does he come when you call him? If you have a nervous or aggressive dog, we can help. It's our specialty! No dog is too much for us to handle! Dog training is a natural way of being for the dog and will make you and him a much happier unit. So get started right away and don't miss out on the joy and harmony that training will give you.
Leave us a review on Google!

Based on a referral from a friend, I contacted Belynda Moore to see if she could help us with our 4 year old lab. After a one hour lesson, our lab no longer pulls of her leash, a habit she had for 3 1/2 years. Belynda knows what she is doing and it was the best money we have spent on our dog. I now enjoy taking her for walks, instead of her taking me for a walk! I would recommend her to anyone who has a problem with their dog's behavior.
Sherry in Seattle
A few days after adopting Rocky I realized he had separation anxiety. It was so bad that one time he even destroyed an entire door in my apartment. I tried hard to work with him on my own, but when my resources weren't cutting it I searched on-line for a trainer. Luckily I found Belynda. After a one hour in-home session, she was able to give me valuable tips and tricks to help Rocky and to save my home from further destruction. Belynda's expertise and guidance gave both Rocky and I the help we needed.. Thank you!
Carrie from Tacoma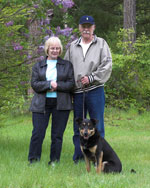 Belynda has been a life saver for Rocky and the family. Her style of teaching made it easy for the dog and us to understand. We now have a dog that we can enjoy. Thanks!
C & M Hale from Tacoma
A+ Excellent training! I would recommend this class to anyone. Thanks!
Larry from Bonney Lake
Belynda Moore provides keen insight into the mind of a dog. Techniques are shown to effectively communicate to a dog what you expect in their behavior. My cattle dog thoroughly enjoyed the training…but the training really is focused on developing the owner to be an assertive leader and a clear communicator.
Steve from Eatonville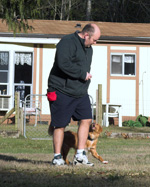 We got our dog (a Nova Scotia Duck Tolling Retriever, Toller for short) as an untrained 8 month old, not very interested in retrieving. Within 3 months, she's still less than a year old, we have a solid obedience foundation, she is doing double & triple marks, blind retrieves and are set for her first Hunt Test.
Whenever someone asks about dog training, I mention your name and website.
Your foundation was more than that:
– Local vet knowledge/recommendation;
– The whip and toy for prey drive (Flirt Pole);
– Adding some real meat to her training treats for motivation;
– Group sessions and working around other dogs;
– The glove (fetch training);
– Force fetch;
– Retrieving the farther of 2 objects first;
– etc, etc……
Brian & Vages
Contact us today to schedule a free demo and learn more about our programs.
Our Location
29508 113th Ave E.
Graham, WA 98338