Dogs and Puppies Available
Boxers and Boxer Puppies for Sale
Breeding for Quality, Drive, Temperament and Health!
Plus a dog you can still work and show!!!

Our Boxers are currently producing at 88.25% European bloodlines. We do all the necessary health testing to do our best to prevent any health issues with any of the puppies we produce. If there is ever an issue with the genetic health of your dog that is detrimental to letting them live a healthy lifestyle, we will replace your puppy as agreed on our written puppy purchase contract that is thoroughly outlined for you to easily understand. As of to date, we have only had to replace one puppy over the last 20 years. By selecting the right combination of DNA tested parents, we can help prevent unwanted genetic traits. We want to continue to provide only the best puppies for families to enjoy!

We strive to keep our lines healthy with excellent temperaments by only using top quality bloodlines while staying within breed standards. We primarily focus on the brindle coat pattern as we really enjoy the darker dogs but occasionally can get a fawn here or there. The most important thing is health, functionality, work-ability and family suitable. Every one of our dogs lives in our house with us and never stays outside in a kennel full time. They get to sleep on our bed from time to time and cozy up on the couch to watch TV. Just as a boxer should!

Our puppies are raised inside with us till they are 4-5 weeks old and then they get moved to a large kennel with a puppy enrichment play area for them that also includes an insulated, heated dog shelter with bedding. This is where our puppies learn all about uneven floors that can move and go thru the tunnel and play with a rope toy tied to a shaker bottle that makes tons of noise. They get tons of desensitization as well as being close to the shop where power tools and chain saws are used over the weekends. The yard next to them is our back yard where the other dogs get to play and bark and run. This helps get them use to other dogs barking at them through a fence.

Each one of our puppies also comes with their tail and dewclaws removed, several de-worming treatments and a 6 way puppy vaccine at 6 and 8 weeks of age. You will receive your AKC registration papers in the mail from AKC once you have picked a registration name that follows the litter alphabet that litter is on. These papers will be prepaid for by us so you won't need to even fill out any registration applications yourself. We will do all the work for you! We allow our puppies to go to their new homes at 8 weeks old after they have been examined and cleared by our own veterinarian. This should give you piece of mind as to the health and well being of each puppy you receive from our home.

Prices for our puppies start at $2500 for Limited AKC registration papers.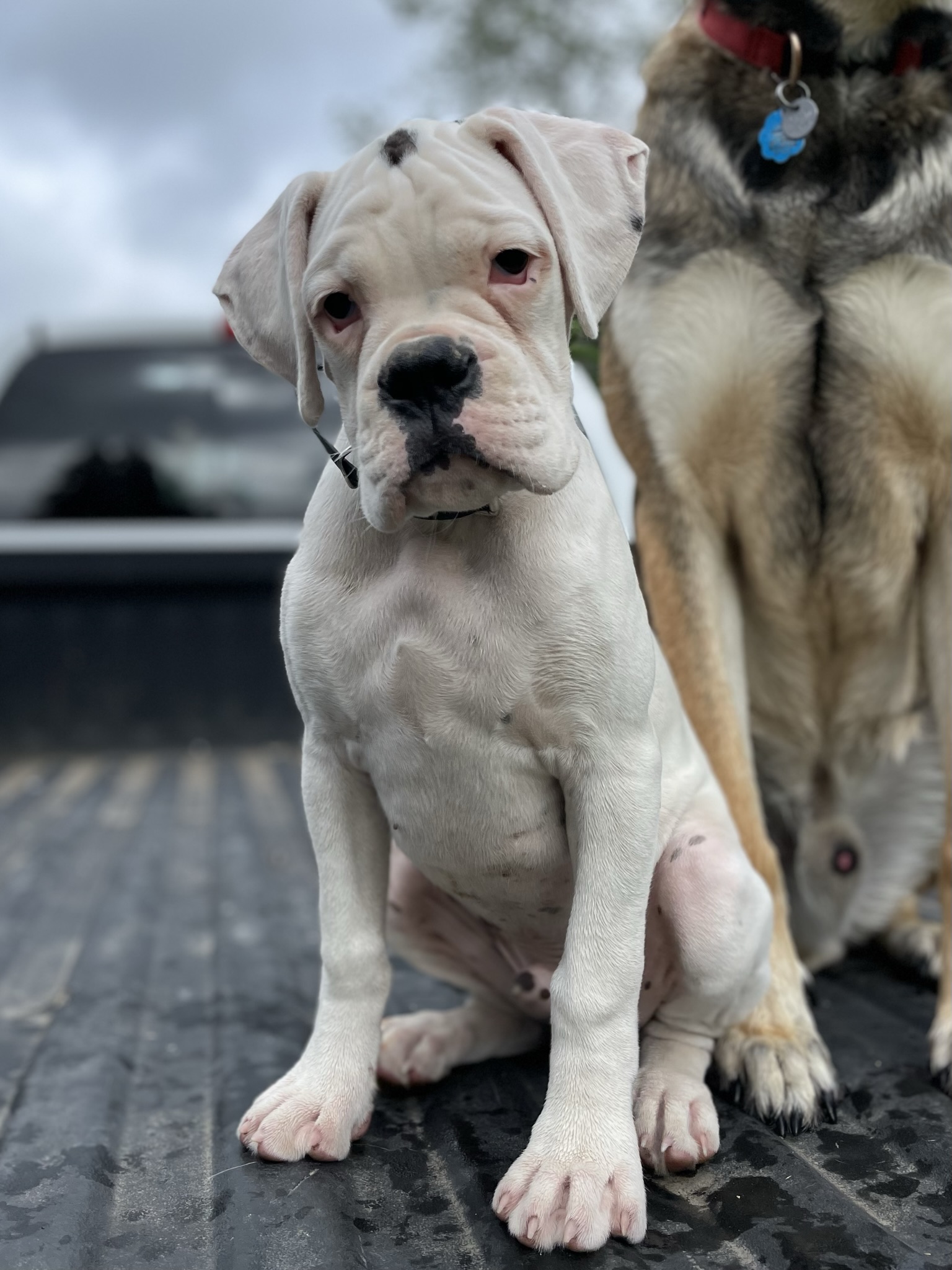 Marty vom Jade Feld
This handsome boy just found his forever home in the Seattle area. He will be enjoying hiking, dog parks and long walks daily in the city. Perfect for this busy boy that needed a boost of confidence!

Marty is super sweet and loving! Wants to be loved all day but very playful at the same time. UTD on vaccines and de-worming including rabies. Vet cleared. Comes with limited AKC registration, 48 month hip/health guarantee and a 6 year cancer guarantee. $2,000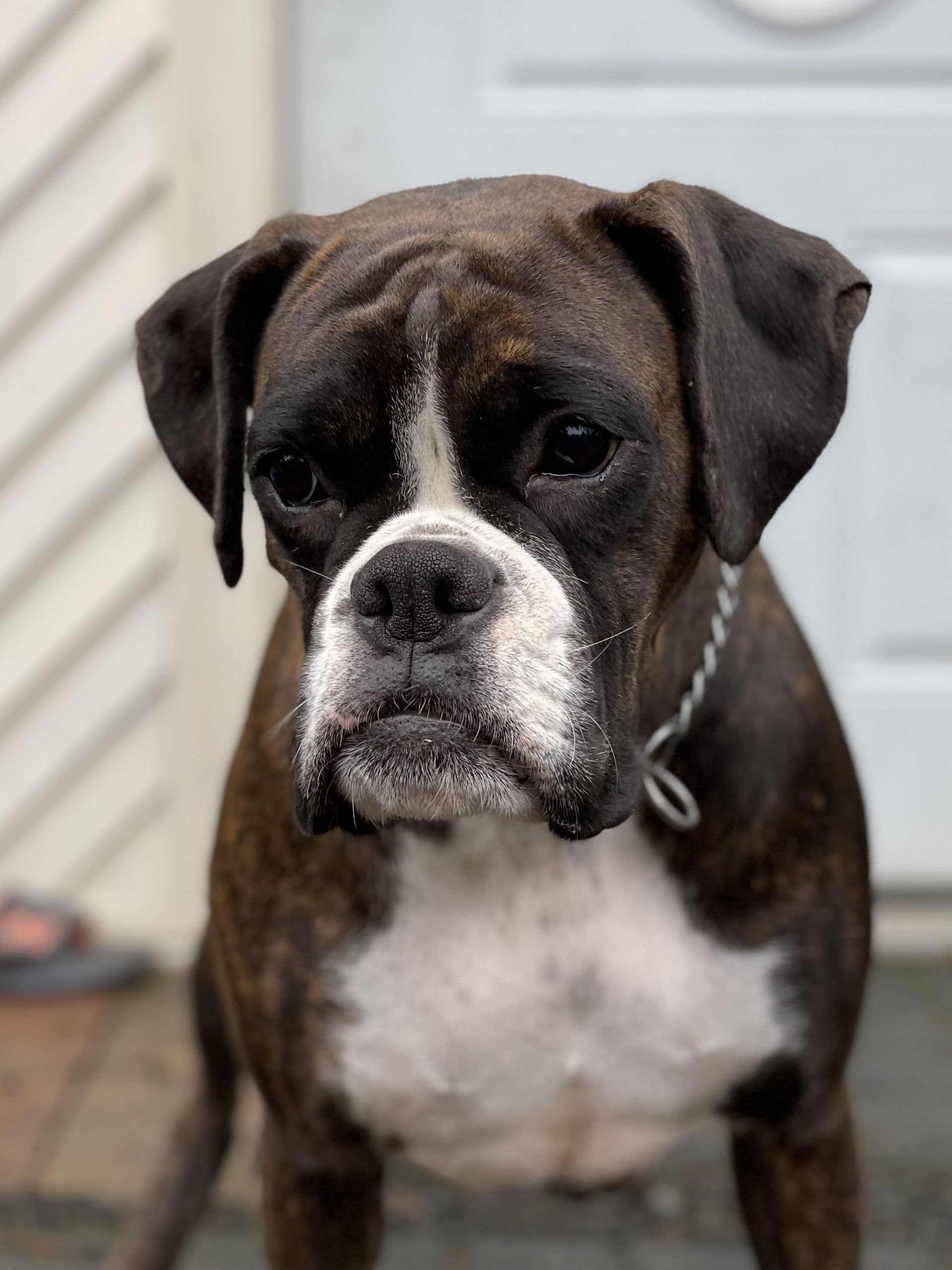 Holly vom Jade Feld
AKC Boxer Female
WS54829401 DOB 8/13/2016
Sire: Geronimo vom German Dream
Dam: Lilly vom Jade Feld
OFA: Hips Good, Elbows Clear
Heart Doppler Cert: Clear
Holter: Clear
ARVC: N/N Clear
DM: P/N Carrier

Holly just had her third and last litter of puppies on April 2nd 2022 which is our "N" litter. She is a very outgoing girl and is extremely loyal! She always wants to be by your side or "in" your lap. Not on your lap, but in your lap!! Adores children a little too much and won't leave them alone!! Loves cuddles in bed and on the couch! Holly has a strong character, great play drive and has a dog dominant nature. She likes to keep her pack in order which has been great for raising young puppies.

She has been spayed and is now looking for her forever home as she is longing for much more affection than we are able to supply with multiple dogs. She gets along great with other male dogs and submissive energetic females but likes to have her own space at times. Best suited for a one or few dog home. Contact us for more details.
$750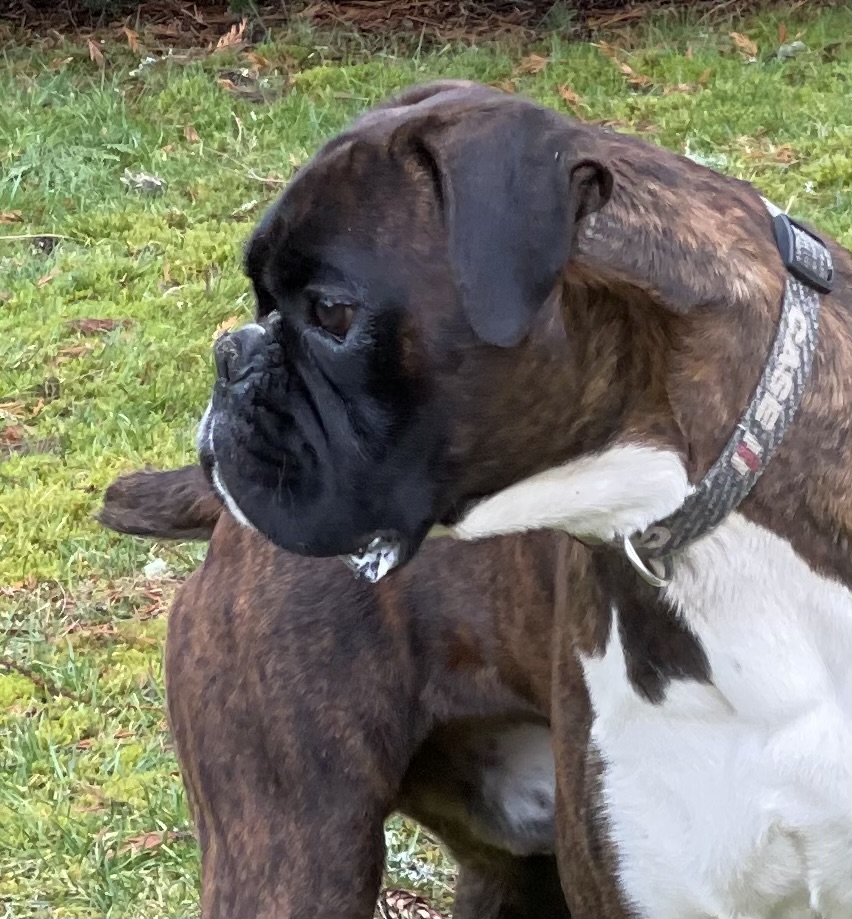 Tuxedo vom Schuster Haus
AKC Boxer Male DNA on file!
WS59221801 DOB: 12/13/2017
Weight: 75lbs
Sire: El Dabestioz TPG Forever Rollo
Dam: Amber Brilliance Huston Whitney
OFA: Hips Good, Elbows Clear
Heart Doppler Cert: Clear
Holter: Clear
ARVC: N/N Clear
DM: N/N Clear
Thyroid: Clear
Kidneys: Clear (Test recommended for all Euro dogs)

Stud Fee: $2500
Available For Sale: $3500

Due to our older bitches retiring, we are offering Tuxedo for sale because we have kept one of his daughters to carry on the line. He is an amazingly fun-loving guy that has tons of toy drive and loves his people. He will play with almost any dog he comes across, even intact males unless they are trying to steal his ball! Lol. He absolutely loves water and will take a dip even in the dead of winter! I swear he is part Labrador! We purchased Tux from a breeder friend of ours November 2021! He fit right in with the pack and gets along with both our boxers and our shepherds. He adores children especially if they will throw a ball for him! So far Tux is producing large males (70-95lbs) and average to large females (55-70lbs) depending on the size and bloodline of the bitch. The best part is that he produces consistency in conformation. Available for stud to select bitches only!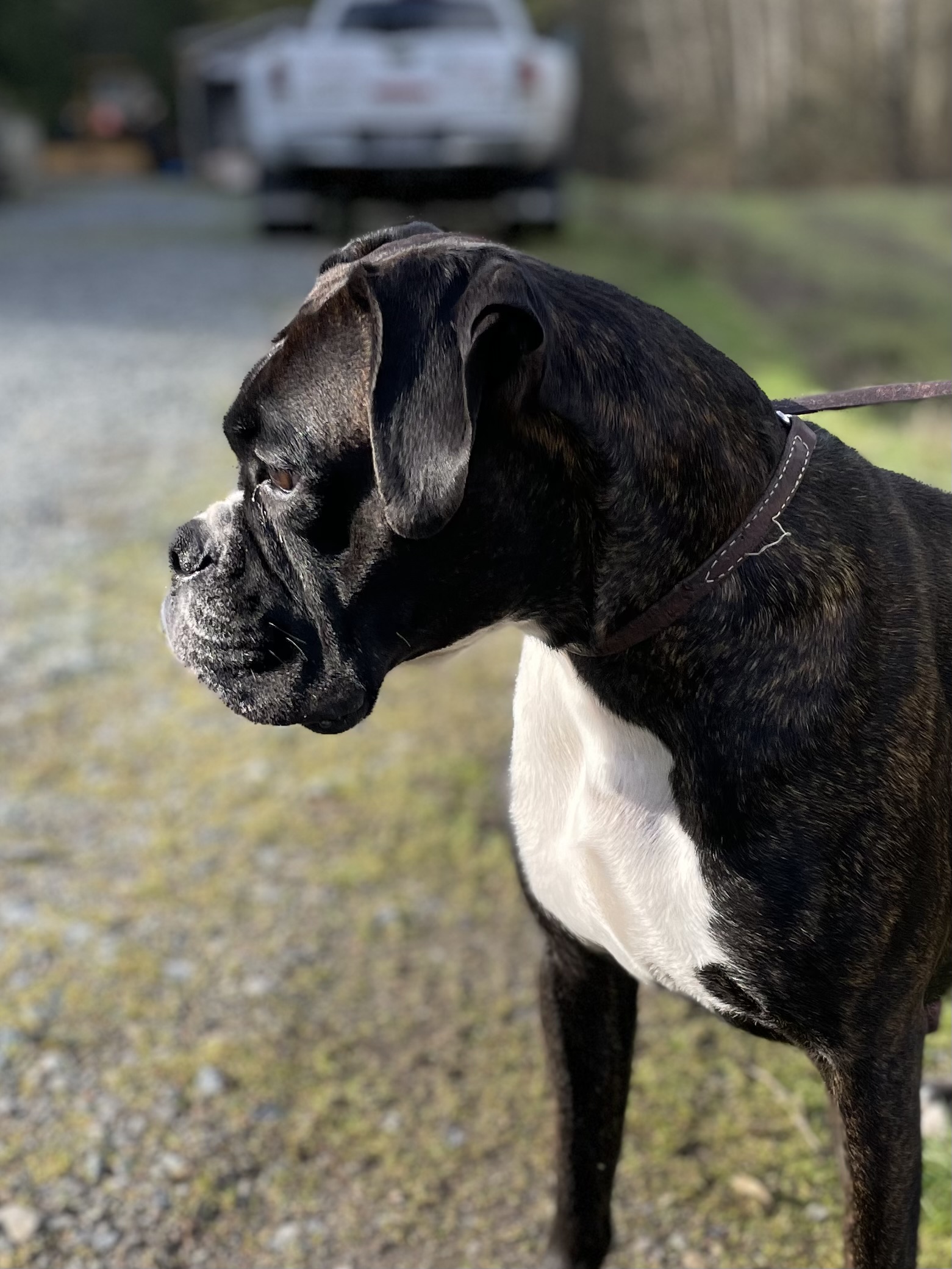 Ivy vom Jade Feld
AKC Boxer Female
WS55425501 DOB 10/23/2016
Weight: 65lbs
Sire: Black Knight Of Kellaney
Dam: Iris vom Jade Feld
Heart Doppler Cert: Clear
Holter: Clear
ARVC: N/N Clear
DM: P/N Carrier

Ivy is our biggest clown of the family. She has a little bit of play drive given to her by her wonderful sire Black Knight with her mothers silliness. This girl loves to lay in bed all day long and would rather sleep in then get up early. When it comes time to play however she is all about it! This is the best of both worlds. Her name to fame is when she gets excited she goes "bucking crazy" as she jumps up and down rearing and bucking as she wiggles and snuffles. One of our favorite boxers from our late Iris who we hold a special place in our heart.

Ivy is our late bloomer and we never thought we would get a litter of puppies from her but she gave us three beautiful males with Tuxedo this mid winter of 2022 and we plan on letting her try one more time if she comes into heat before her next birthday. Then she is retiring in our home forever!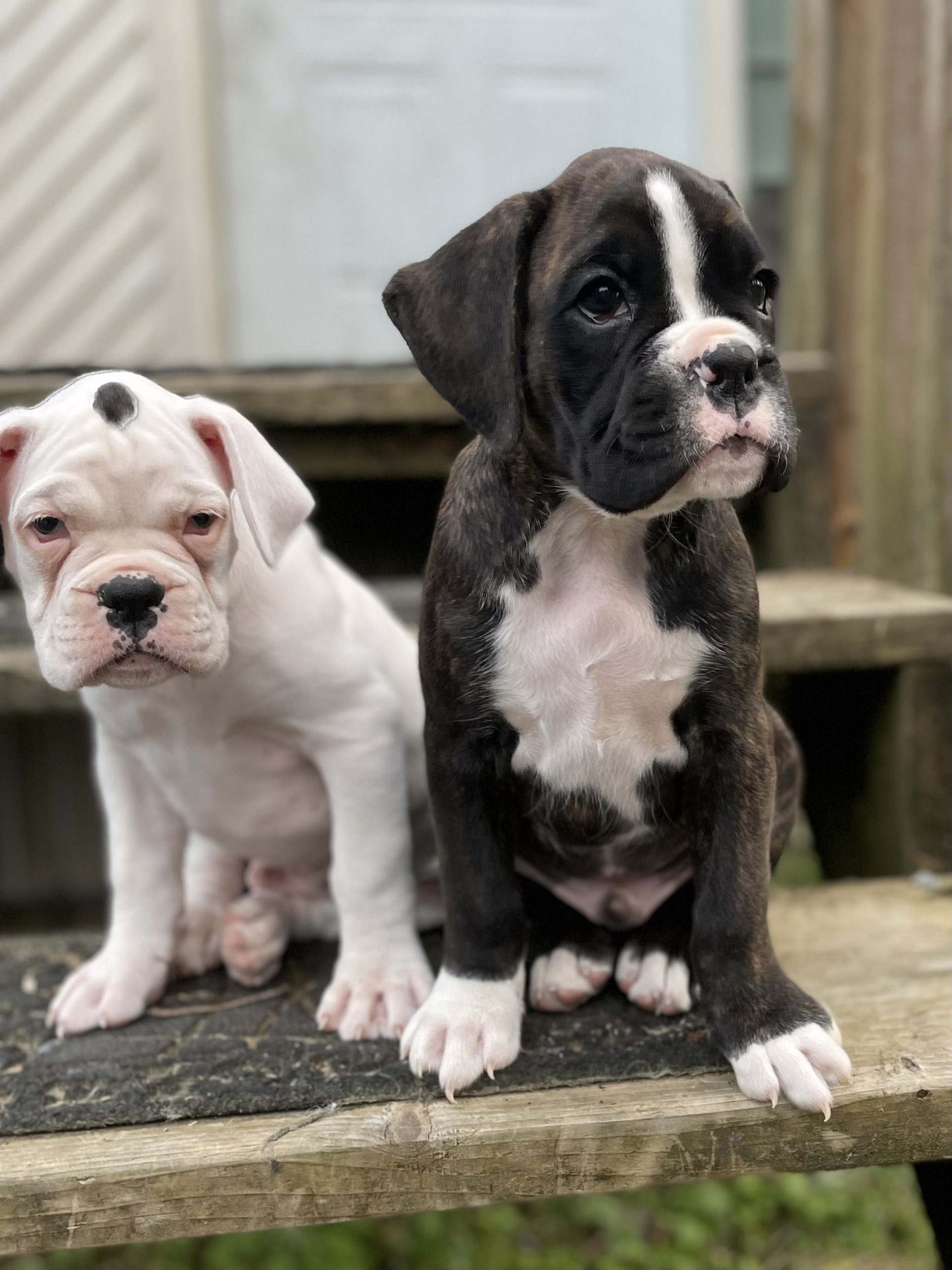 Ivy x Tuxedo Puppies Available
"M" Litter (All Adopted)!
$2500 Limited AKC Registration
Born 02/13/2022

3 Males
Two Brindle One White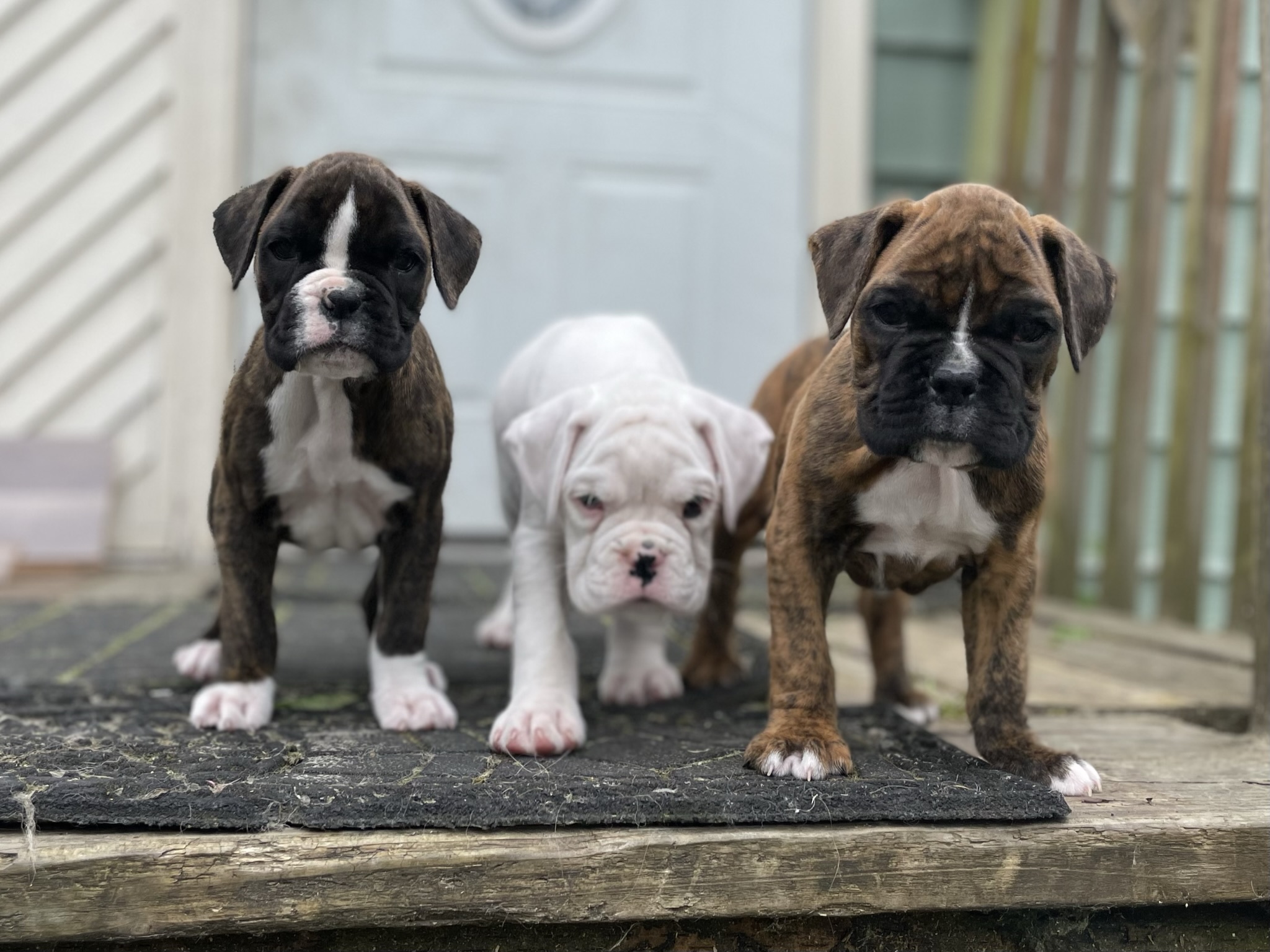 Holly x Tuxedo Puppies
"N" Litter (All Adopted)!
$2500 Limited AKC Registration
Born 04/03/2022

3 Females
Two Brindle, One White
2 Males, Brindle
All puppies in this litter are adopted!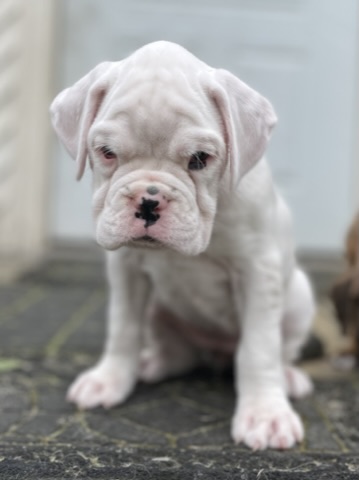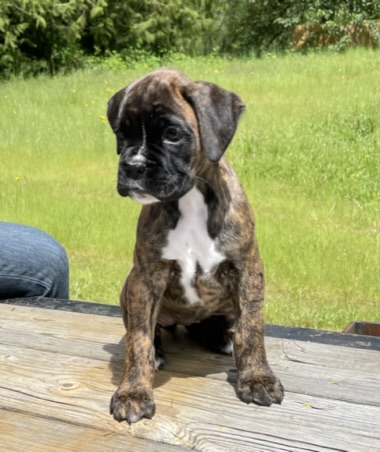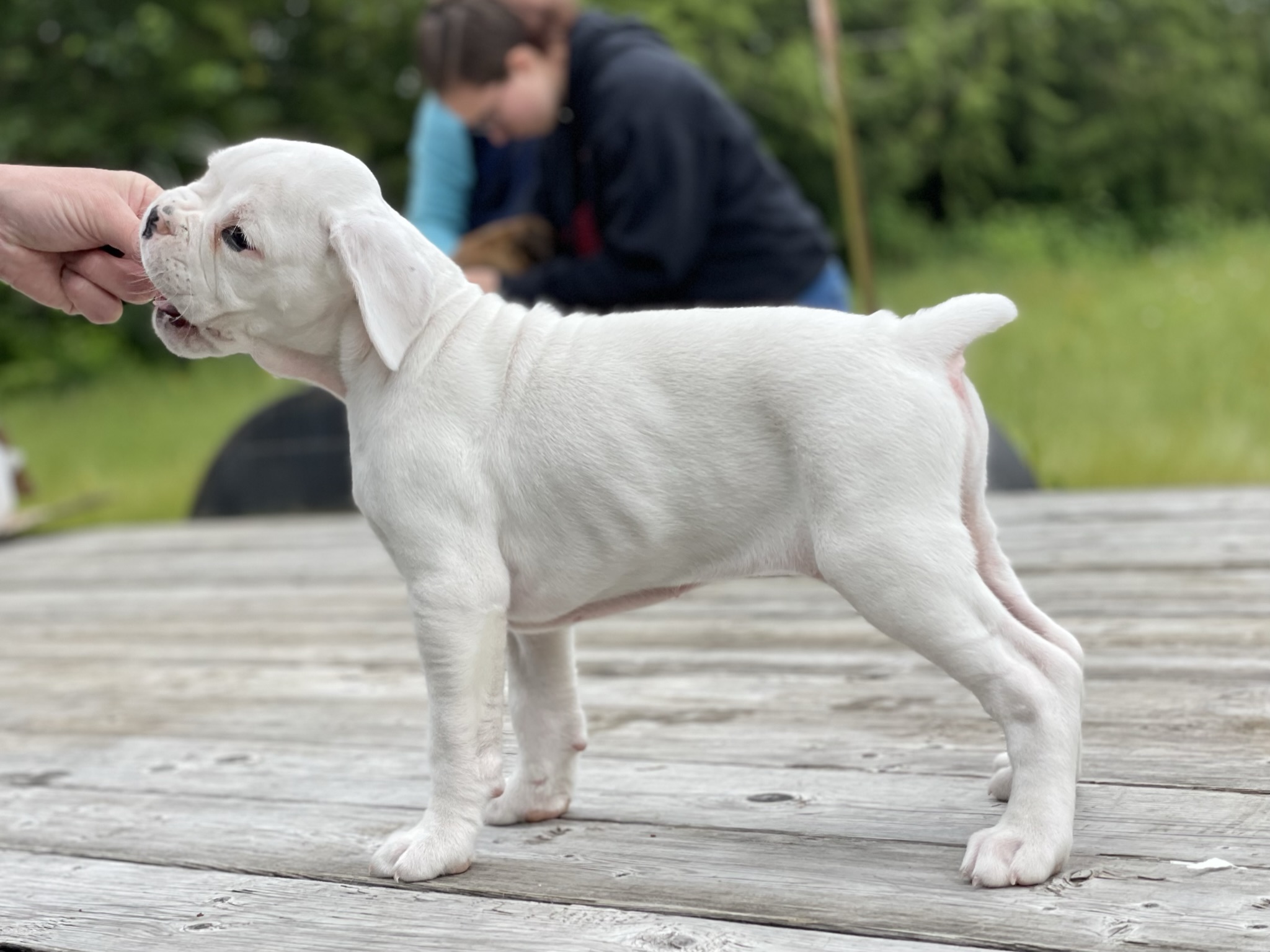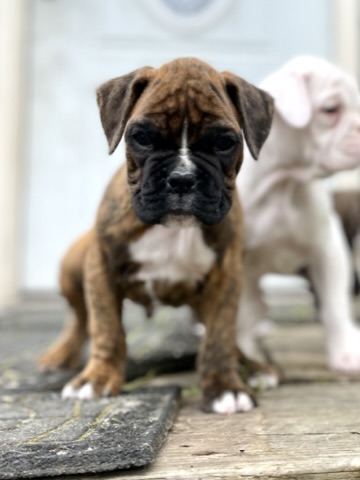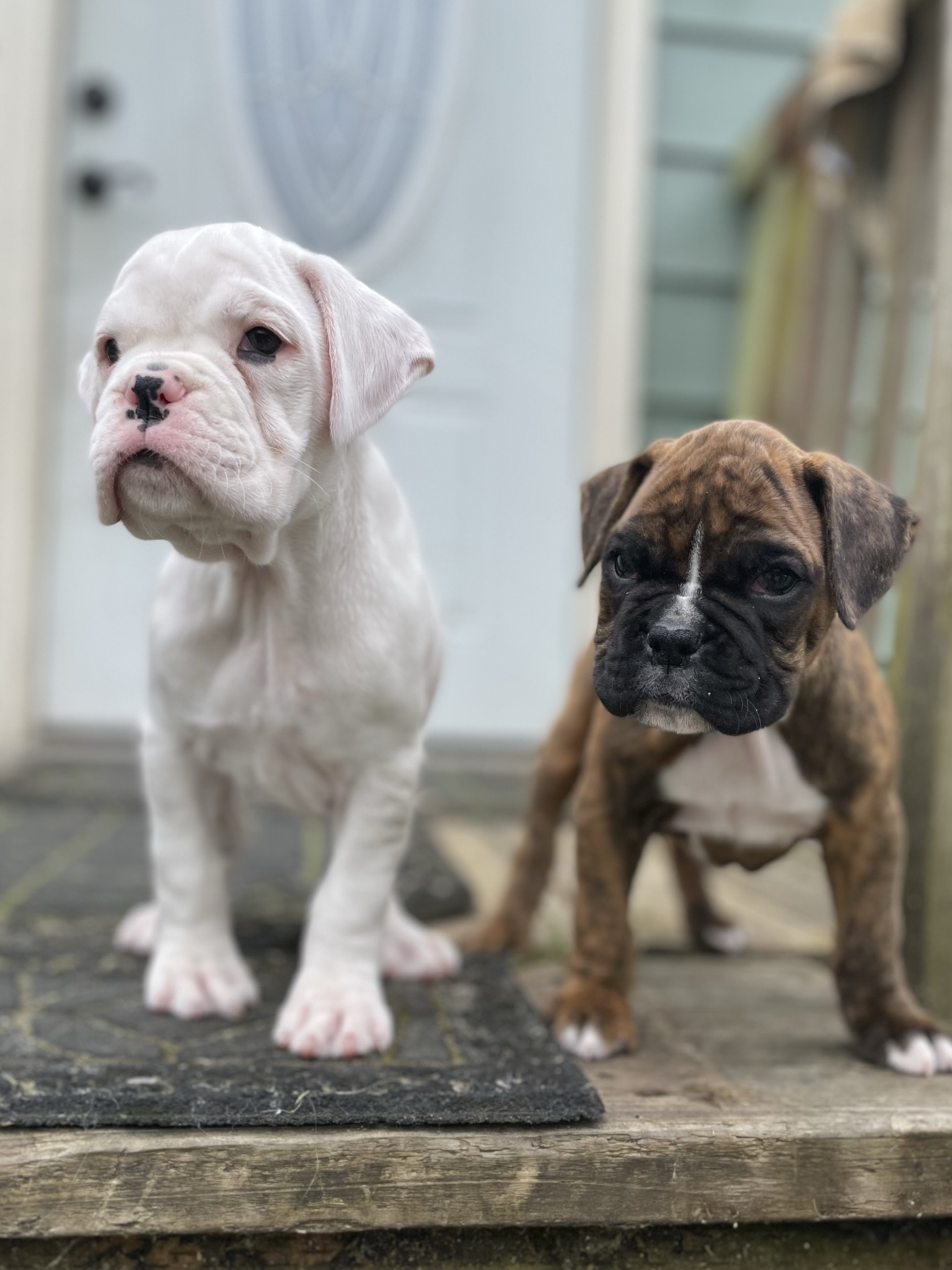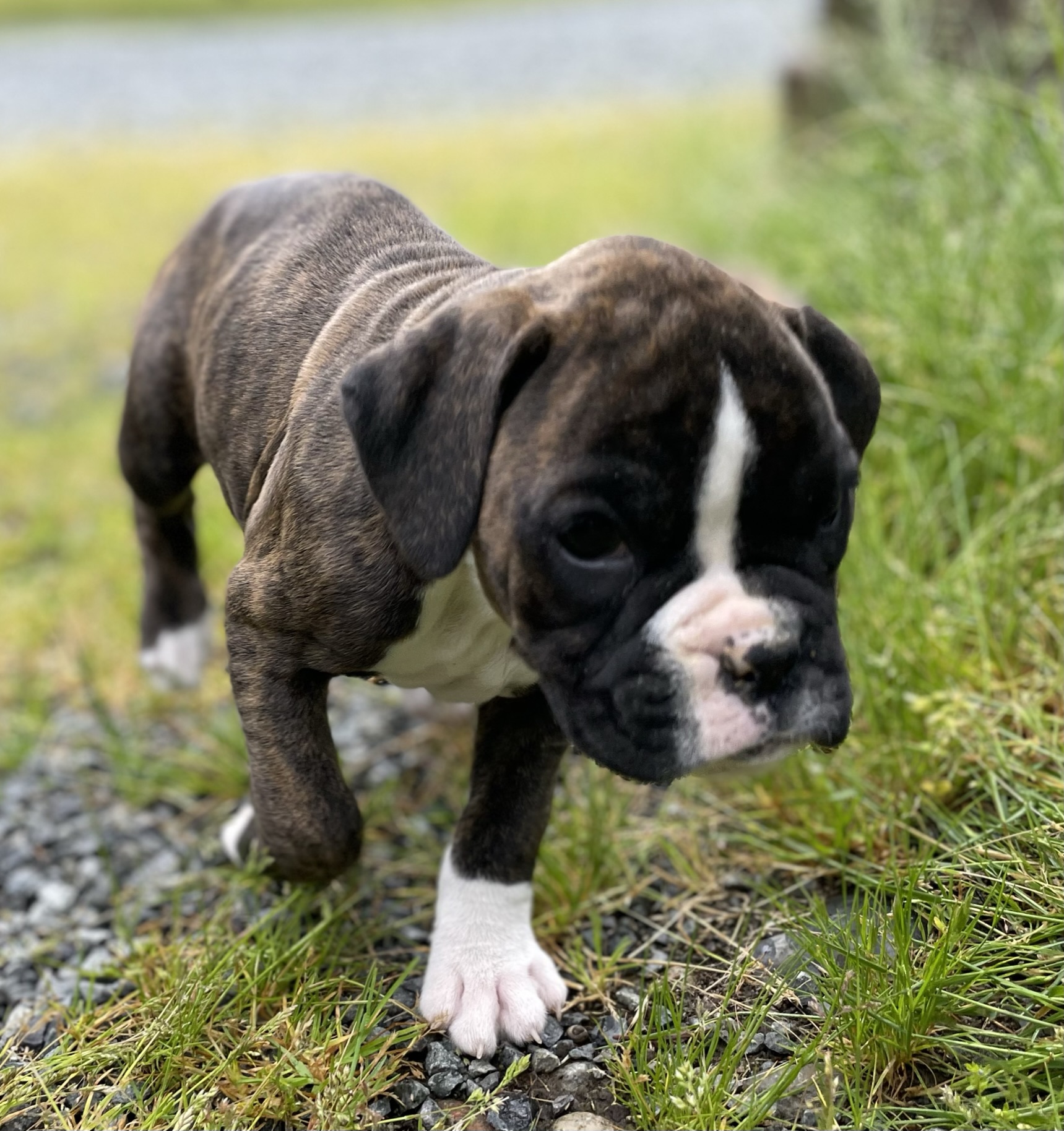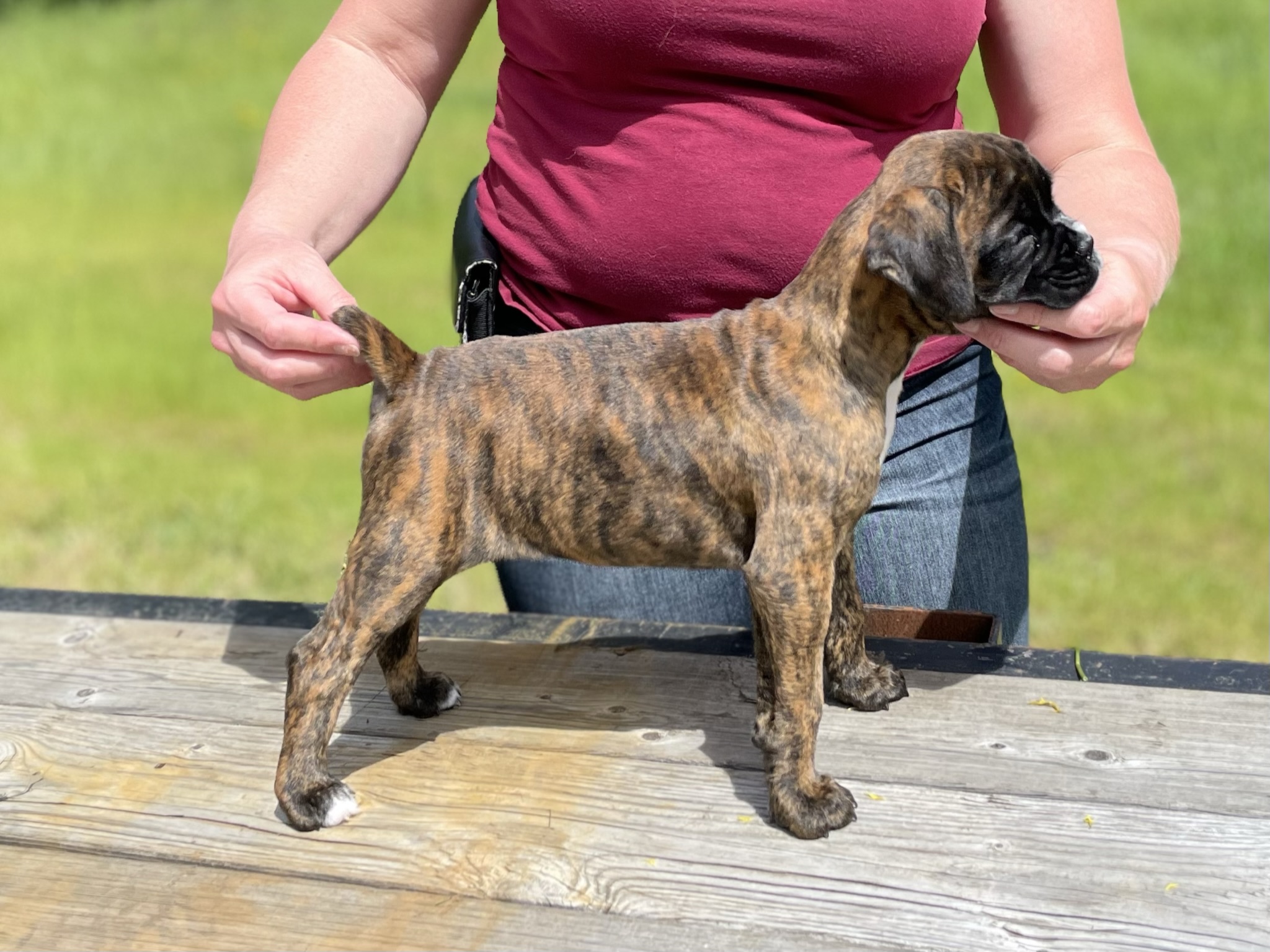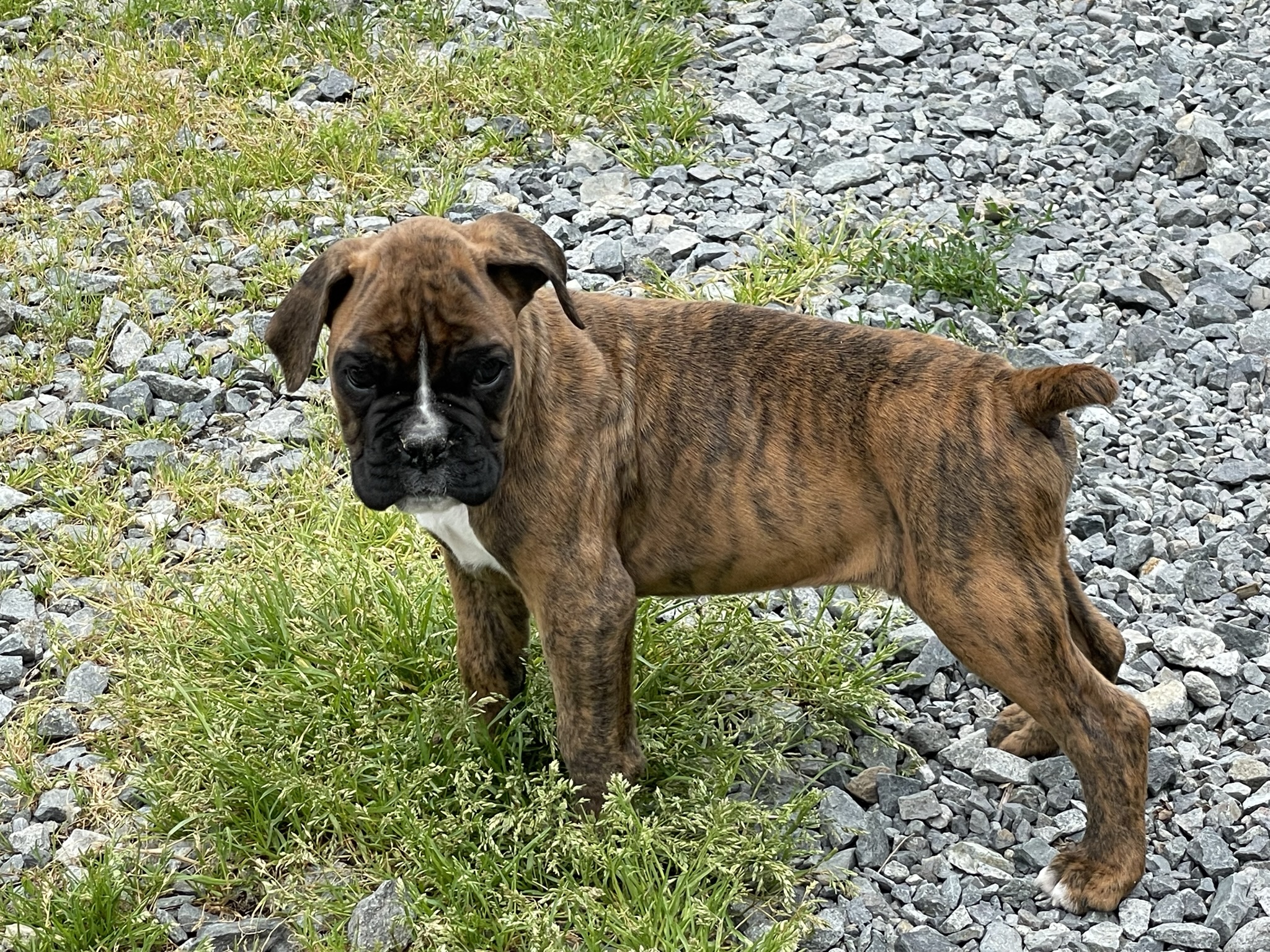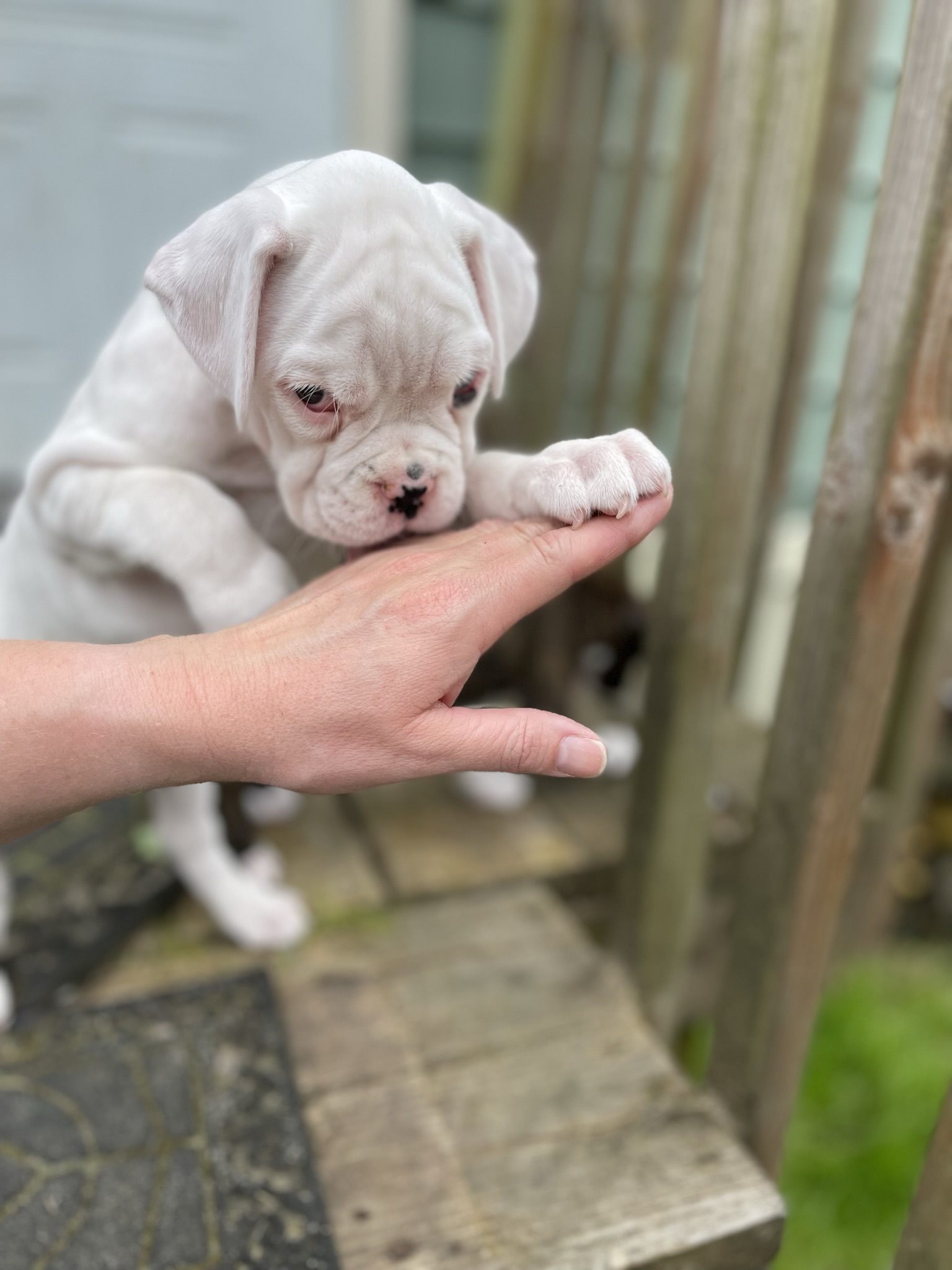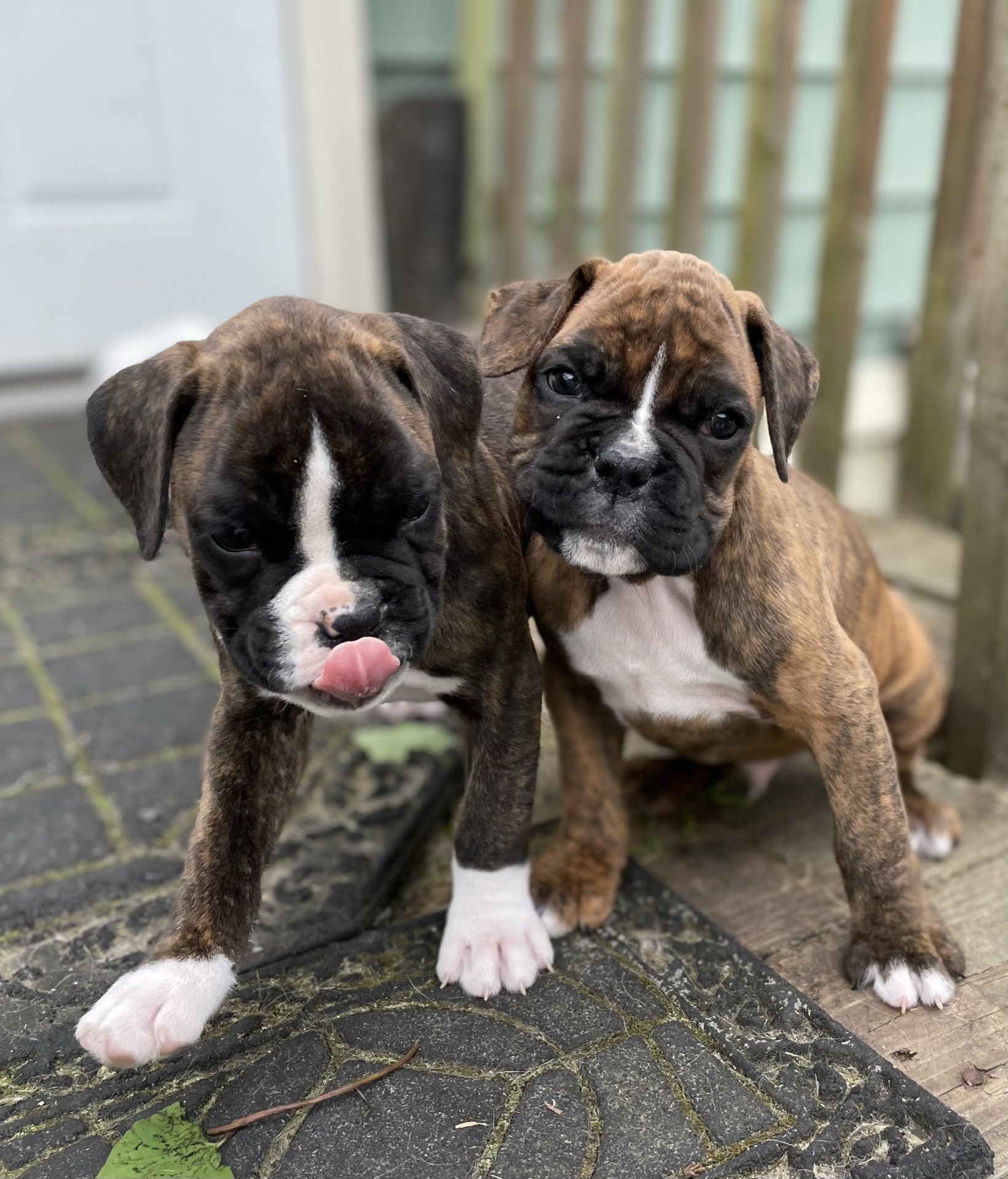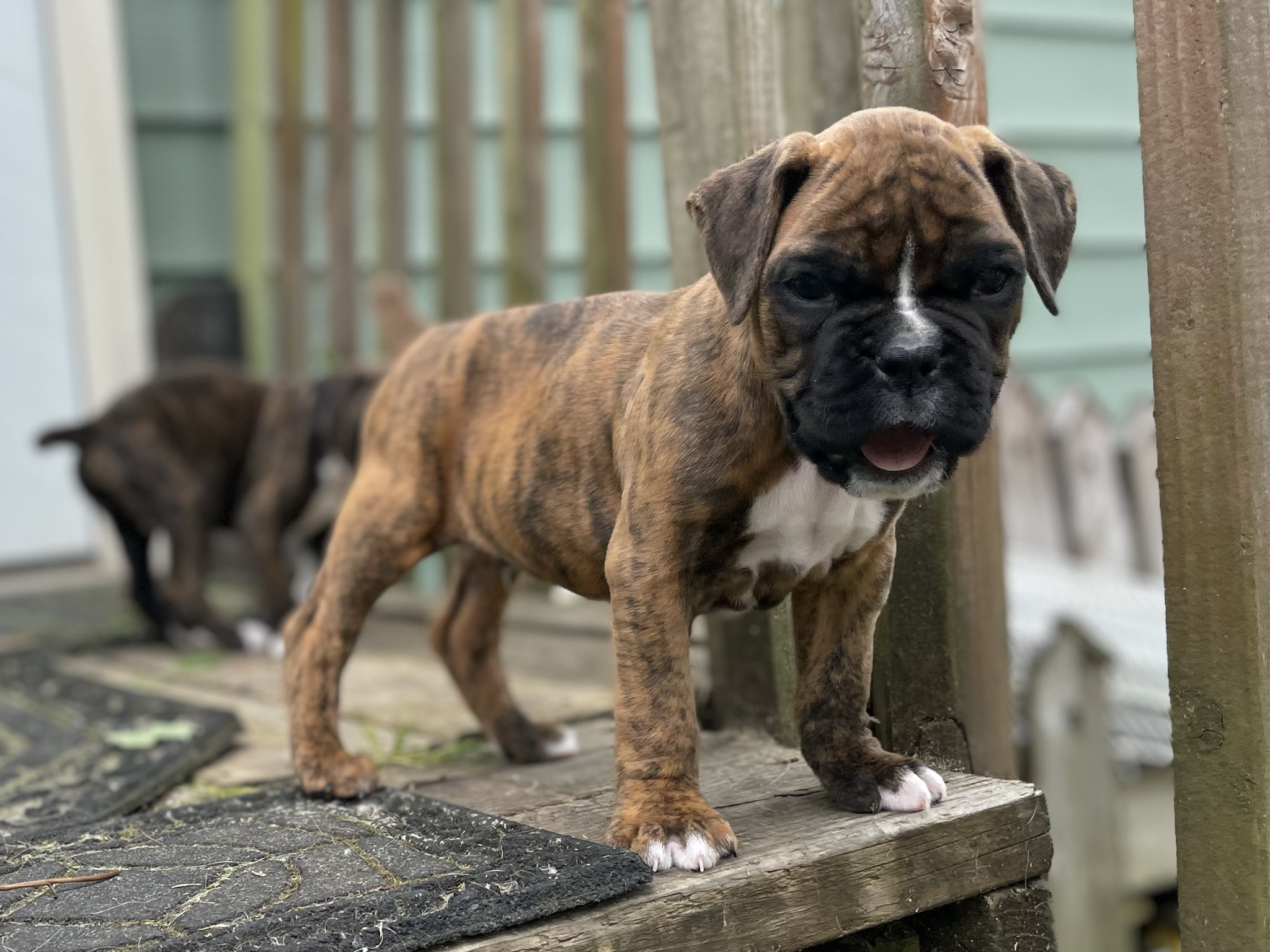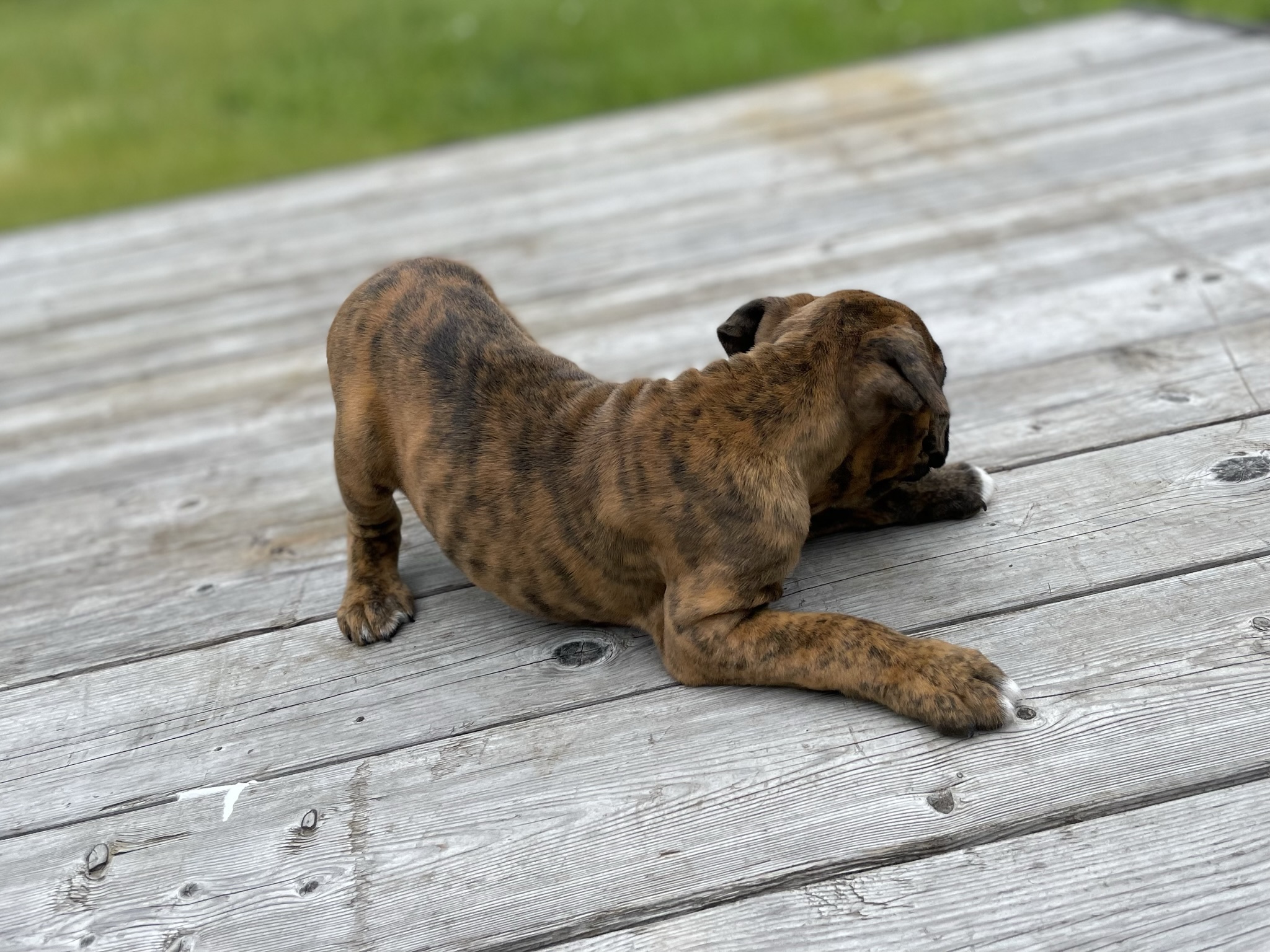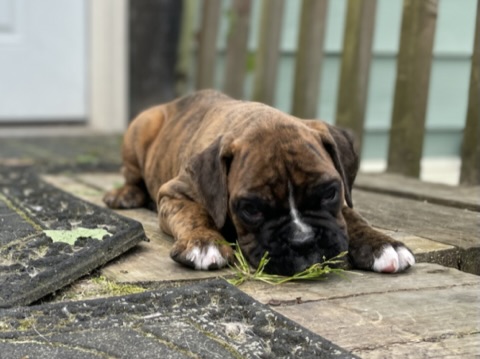 Contact us today to schedule a free demo and learn more about our programs.
Our Location
29508 113th Ave E.
Graham, WA 98338